Image via seocompany.com
Bring Your Own Device (BYOD) is a concept utilised by a plethora of organisations to allow their employees to connect to the corporate network with their own laptops, tablets or Smartphones… any personal device, basically. The main belief behind BYOD is that companies benefit by saving money because they no longer have to provide each employee with a computer device. However, these cost benefits become eroded by additional and unpredictable investments such as security reinforcement to sustain BYOD.
As these investments become more long-term, the cost advantages of BYOD seem to dwindle. For instance, according to Xigo and CCMI Research in 2012, "Only 9% of organisations have been able to cut expenditure by deploying some kind of BYOD program while 67% saw no difference with expenditure". Despite this, BYOD is rapidly becoming more popular globally. So why is this happening? What are the benefits of BYOD? Continue reading to find the answer.
Enhanced Employee Satisfaction
Many businesses have found that allowing employees to use their own personal Smartphones and tablets vastly improves employee satisfaction regardless of the fact that the employees purchase these devices themselves. This has been demonstrated by studies by Cisco, who reported a 33% improvement in employee satisfaction following the installment of BYOD.
Image via
Better Employee Mobility
Connecting with employees is vital, and ensuring this connection is continuous and simple has limitless benefits. Enhancing employee connectivity by permitting the use of bring your own device and mobile devices, as well as remote access to the corporate network, ensures that employees stay connected. This, naturally, enhances employee mobility. Connection services on personal devices can even ensure that employees are capable of collaborating in real time and continuing their job roles without being restricted by locations or time zones.
Improved Employee Productivity
Employees reportedly feel more comfortable with working on their own devices, and BYOD allows employees to restrict the number of different devices they use. This reduces problems such as switching between personal and work devices, consequently allowing employees to access their corporate network just as easily as their own personal files. According to CIO, "mobile workers who use mobile devices for both work and personal purposes put in 240 more hours per year than those who do not". This is thought to be due to a remarkable change in employee work habits if employees are able to use their devices after work hours.
Attracting and Retaining the Talent
Offering employees freedom and flexibility conveys a clear message of trust from the company. Consequently, BYOD can act as a priceless tool for enticing and keeping talented workers. Employees feel capable of making their own decisions while knowing that these decisions are supported by a trusting organisation. This incentive is excellent for maintaining a productive workforce, but also attracts prospective workers.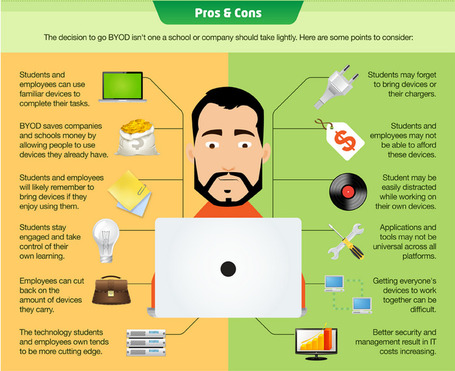 Image via
Improved Business Agility and Flexibility
BYOD enables employees to deal with basic tasks during "out of office" periods as and when they please and as a result can massively benefit a company by significantly improving business operations. Providing employees with constant access to their work and the company network can reduce waiting times, particularly profiting customer sales and satisfaction, and can facilitate faster resolution of any action roles. In addition, utilising personal devices and virtual applications allows seamless connections to be maintained throughout the company in a BYOD atmosphere, thus improving business agility.
 Security 
The main concern organisations have with the bring your own device trend is keeping their sensitive data safe. For this reason, it is essential to have a BYOD company policy already set in place to alleviate any potential issues. The good news is there are many cloud security companies that can keep your data protected from hackers regardless of what devices are used. So, instead of protecting the device, all you have to worry about is managing your business information. Not to mention, you can also find apps that will separate your employees' work files from their personal files for an additional layer of security.
What are your thoughts on BYOD and what is your strategy? Let us know in the comments section below!